Joshua Poteat, William & Mary's writer in residence for 2011-12, considers his position at the College to be a "gift."

"Being a writer-in-residence is a dream for innumerable writers, including this one, especially here at W&M," said Poteat. "Having the time (and office) to write as well as talk shop with some of the sharpest students I've met at one of the most prestigious universities in the country is a gift for me. I'm honored to be here."

Poteat continues a Department of English tradition that dates back to the program's inception in 1973. He is teaching one course in both the fall and spring semesters, and will seek inspiration from his own experience as a graduate student at Virginia Commonwealth University.

"My mentor in graduate school, Larry Levis, died during my second year," he recalled. "He was well respected in his field, and had many poet friends. Two of those friends felt sorry for the students who had lost their teacher, and filled in for him in my final year as writers in residence/visiting writers.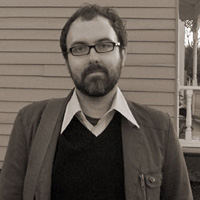 2011-12 writer in residence Joshua Poteat

Gerald Stern and Ellen Bryant Voigt were the fill-ins -- and they were simply amazing. If only I could summon an ounce of what they gave (and still give) to their students…."

Poteat's work and awards fill nearly three pages of his resume and have drawn rave reviews from every quarter. His first manuscript, "Ornithologies," won the 2004 Anhinga Poetry Prize. He was awarded the Poetry Society of America's 2004 National Chapbook Award for "Meditations."

"This poet knows that ruin is no excuse for despair, and even as he combs the rubble for tokens of consolation, the presence among us of these clear-eyed, large-hearted poems may serve a similarly hopeful purpose for readers of contemporary American poetry," wrote Campbell McGrath, judge for the 2004 Anhinga Press poetry prize.

From Mathias Svalina, book reviewer, University of Nebraska: "Have I mentioned my absolute love of Joshua Poteat's poetry?"

A Richmond resident, Poteat has also won recognition from the Vermont Studio Center, the Millay Colony, the Virginia Commission for the Arts, Virginia Center for Creative Arts, Eastern Frontier Educational Foundation/Norton Island, and many others.

"He uses a lot of resource material in his poetry," said W&M English Professor and former writer in residence Nancy Schoenberger, director of the Creative Writing Program whose committee identifies and selects the writers in residence. "I wouldn't call his poems 'learned,' because that's the kiss of death, but the poems are very deeply grounded in the world. He can talk [to students] about researching [their] interests as a background for the kind of work [they're] going to do.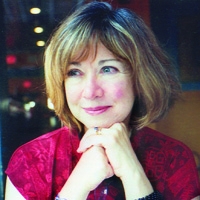 Nancy Schoenberger

"He's also very much involved in the world of readings and events and grants and organizations. For the young writer who wants to go out there and make a reputation as a poet, you need to know about all of that. I think he will be very good at making our students aware of what's out there for a poet."

Poteat graduated from the University if North Carolina-Wilmington in 1993 with a B.S. in English. Four years later, he earned a Master's in Fine Arts from Virginia Commonwealth University. Included among the many schools and programs where he has instructed since 1997 are Virginia Commonwealth, Virginia Union University, the University of Virginia's Young Writer's workshop, the University of North Carolina-Greensboro, the Gilman School Visiting Poets Series in Baltimore, the University of Richmond's Governor's School.

The opportunity to learn from Poteat is the grand prize for students who emerged from fierce competition to earn a seat in his class. Because the courses are advanced level, students must show that they have completed preliminary and/or 300-level coursework in either poetry or fiction. All submit a portfolio.

"We have a large body of students who are interested in creative writing," said Department of English Chair Susan Donaldson. "This gives writers the opportunity to teach students who want to be introduced to the life of a writer, as opposed to academics, who may write fiction or poetry on their own."

The program also offers a key element of "de-mystification," as Professor of English Henry Hart calls it.

"The flesh-and-blood professor who teaches them week after week has accomplished that seemingly unattainable goal of 'making it' as a writer," said Hart. "I remember when I was younger, I tended to think of writers as abstract entities -- they were hallowed names on books, and many of the names referred to writers who had died a long time ago. In college, when I met famous writers and realized they were human beings like the rest of us, I felt less overwhelmed and less daunted by the mystique that writers had.

"Basically, I thought: If she or he made it as a writer, maybe I can make it as a writer, too. I think that 'de-mystifying' process is important, and our writers-in-residence contribute to it."

In the beginning

For ingenuity and eccentricity, it would be hard to top William & Mary's first two writers in residence, nearly 40 years ago. The program was the brainchild of Milton Lesser '48, better known as Stephen Marlowe -- and in literary circles by the noms de plumes Marlowe, Adam Chase, Andrew Frazier, Jason Ridgway and, once in 1961, Ellery Queen. Marlowe offered to serve as the College's initial participant, and did so in 1973-74.

The author of more than 50 novels, Marlowe was initially best known as the creator of detective character Chester Drum in his 1955 novel "The Second Longest Night." He also crafted novels from the lives of real people – among them Christopher Columbus, Francisco Goya, Miguel de Cervantes and Edgar Allan Poe.

Marlowe, who served a second stint as writer in residence in 1981-82, recruited 1975 writer in residence Herbert Burkholz. Primarily a mystery novelist, Burkholz was a boyhood friend of Clifford Irving, who crafted one of the great literary scams of all-time, a 1971 fake autobiography of Howard Hughes that netted Irving a 17-month prison term. Burkholz and Irving later collaborated on several lightly regarded spy thrillers.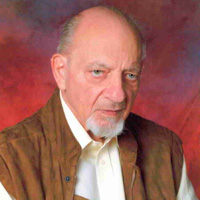 Herbert Burkholz

Burkholz may have been a fine teacher, but at least one former faculty member remembers him – and others – as much for their unconventional, bohemian lifestyles.

"This is one of the educational things that is fairly characteristic of writers in residence," explained W&M Professor Emeritus Scott Donaldson, who knew Marlowe well. "You get the occasional wild man on campus, the person who doesn't live by ordinary rules and standards, yet manages to scratch out some kind of existence.

"Having that odd sort of cat around can be useful for a campus; someone who has managed to achieve the kind of life that's possible for you – and he's absolutely nothing like anyone else around you."
Keeping the program vibrant

According to English Department Chairperson Susan Donaldson (no relation) "we owe the vitality of the program to Donaldson and his wife, Vivian."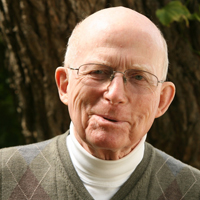 Scott Donaldson

After years watching the program struggle to find enough money to consistently make the position appealing – sometimes unsuccessfully – Scott and Vivian Donaldson began making gifts to fund the program in 1988, finally endowing it in 2006. Their generosity has enabled the College to lure literary stars and stars-in-ascent. Among the long list: journalist and oral historian Wallace Terry; biographer and Pulitzer Prize finalist Blake Bailey; poets Michael Mott, Cornelius Eady and Amy Clampitt, science-fiction writer/poet Thomas Disch; novelists David Robbins '76, JD '80 and Christopher Bram '74; and creative non-fiction author Kristen Holmstedt.

"We try to see what our needs are," said English Professor and Creative Writing Director Nancy Schoenberger, a former writer in residence whose committee identifies and selects the writers in residence. "For many years we didn't have enough people to teach fiction-writing workshops at a time when the demand for fiction was very, very high. For several years, we invited fiction writers because that's what we needed.

"Then two years ago, because of Scott Donaldson, we started to include this relatively new genre called creative non-fiction. We were able to hire Blake Bailey, then Kirsten Holmstedt, whose work with women in combat resulted in very contemporary, very personal stories. Her work was geared more toward journalism, we didn't have a course like that, and we received great reviews from the people she touched last year."

Scott Donaldson, who taught English at W&M for 28 years and is one of America's foremost literary biographers, explained that the endowment came from his belief that it was important for aspiring writers to experience "something that was not a part of the ordinary preparation you get in college."

"Vivian and I decided that if we were going to do something for the College this was a good thing to do," he said, "to have enough of an endowment to enable the College to bring in someone at least for a semester each year."

The value of any program is evident in the accomplishments of its alumni. Perhaps no one embodies that success like Mike D'Orso '75, M.A. '81 author of 16 narrative non-fiction books, including his latest with actor/activist Ted Danson, "OCEANA: Our Endangered Oceans and What We Can Do to Save Them."

While pursuing his Master's degree in English in 1980, D'Orso, whose background was in print journalism, was accepted into the spring seminar taught by writer in residence Mary Carter. Her impact on D'Orso, who has authored eight national bestsellers, was profound.
Mike D'Orso spoke at Old Dominion University's 2006 commencement/Photo by Bill Tiernan

"I wasn't particularly impressed with the work I produced (almost exclusively short stories), but she was very encouraging, and pushed me to free myself in terms of 'voice' and 'attitude' and 'tone,' all of which had its mark on my eventual nonfiction writing," he said. "I've built a career writing what's now labeled 'narrative nonfiction,' which is simply applying all the tools and standards of journalism to a story in terms of reporting and research, and then applying the tools of fiction writing to the actual writing -- the result is true stories that read like novels.

"Looking back, I'm sure I owe at least some of my success on the 'writing' side of that equation to the very early seeds that were planted in Mary Carter's seminar. She was a wonderful teacher -- both demanding and encouraging."

Carter wrote a letter of recommendation for D'Orso that he has saved – and still cherishes -- 31 years later.

"I've had considerable experience with gifted students, in journalism as well as fiction. None has so immediately demonstrated so much promise, nor so rapidly begun to produce evidence of it, than Mike D'Orso."

"Those words," D'Orso said, "along with the rest of the letter, meant a ton to a 26-year-old beginner."

Carter's letter is emblematic of a practical side many writers in residence have adopted on behalf of their students. Take 2010-2011 writer in residence Kristen Holmstedt.

The author of two non-fiction books on women in combat, Holmstedt was well-versed in the rigors of self-promotion and marketing, increasingly a fact of life as publishers trim staff and promotional budgets in response to the languid economy.

"Because she had to do a lot of her own marketing, she got very, very good at it, and she was able to talk about what you have to do to get your work out there," Schoenberger said. "That's a big problem, there are more people writing poetry than reading poetry; you really have to get your work out there. There's such competition for attention, so a person has a choice: Do I want to read a book, or do I want to watch videos? Spend three hours on Facebook, or watch a movie? It's harder and harder for writers to get their work out there."

W&M's writer-in-residence program allows students to bridge that chasm -- or at least deal with which side of the divide they find themselves.

"It is mountainous, that's true," Poteat said. "The odds are against all of us to do anything, really. Just staying alive each day is a success for some people. And being able to study the writing of poems is a luxury I'm well aware of. With that in mind, one has to forget about monetary success, forget about ego and fame, and attempt to translate the beautiful, sad world we inhabit. If it is done well enough, maybe the capitalist success will follow (which always makes our parents happy). If it doesn't, at least we've spent our time doing something that makes us better, more considerate and thinking humans."